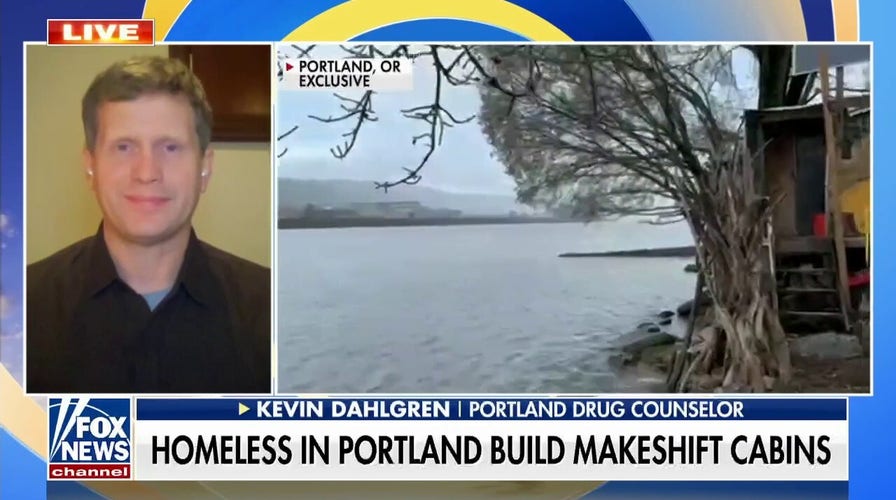 Portland, Oregon residents are reeling after the discovery of a riverside homeless community outfitted with intricate makeshift cabins and million-dollar views of downtown.
Local drug counselor Kevin Dahlgren joined "Fox & Friends First" after visiting the "dystopian" sight that he says may have gone unnoticed for years by the city.
"It's just in a completely different world," Dahlgren said Thursday. "It's clear that these people had spent years building these things. And my question is, how did they get away with this for so long? I mean, it's like right near downtown Portland, this really is a million-dollar view."
PORTLAND MAN ARRESTED AFTER TERRORIZING DOWNTOWN AREA, 'CHASING PEDESTRIANS' WITH STOLEN FORKLIFT: POLICE
Residents living near Portland's Willamette River have witnessed a series of structures being built on prime river real estate but have so far been unable to get anyone to do anything about it.
"Pretty much everyone comes back and says that they don't have jurisdiction because it's Union Pacific, it's a railroad," Ric Scaramella, who owns a condominium on the other side of the Willamette River, told KOIN.
Scaramella told the outlet that people across the river from his home have been building the makeshift cabins complete with doors, windows and sometimes even solar panels.
"I saw a lot of dogs and I saw there's actually chimneys, there's working fireplaces, so there's a lot of smoke coming out of the chimneys," Dahlgren said. "But nobody wanted to answer the door, so I didn't really I didn't see anybody. But it was clear a good at least 15 people live there."
Dahlgren added that almost every house had a boat and suggested it could be possible that activists are transporting materials to the area.
According to a reporter for an outlet who took a boat to get a closer look at the structures, many of the buildings are made out of driftwood and resemble beaver dams, while further down the river there was a collection of garbage and debris on the shoreline.
The city of Portland has declined to take responsibility for the area, arguing that the structures sit on land owned by Union Pacific or the Port of Portland. The Oregon Department of Environmental Quality and the Army Corps of Engineers also told KOIN they play no role in overseeing the area.
"Our local government is saying, well, there's a legal gray area about who has jurisdiction, but the translation is that they don't want jurisdiction because this would be a complete nightmare to pick up, to clean up. It would be hundreds of thousands of dollars and would take forever," Dahlgren said.
CLICK HERE TO GET THE FOX NEWS APP
"Someone has to do something, whether it's private land or public land. This is here. This is something we could see. This is something we got to figure out, a way to solve [it]."
Fox News' Michael Lee contributed to this report