Jeremy Renner is starting to reveal more details about what happened on New Year's Day when he was nearly crushed to death in a horrific snowplow accident.
The Marvel star appeared in high spirits and even joked about what happened to him during a new interview, but he also revealed why he felt immense guilt.
"One thing I thought about once I was clear enough – this was still while I was on the ground before the ambulance even got there – was what my experience was like, but then I had to think about Alex's because Alex was there during the entire time, I mean he had to see his Uncle Jeremy on the ground," he recalled during an appearance on "Jimmy Kimmel Live!".
Alex Fries is the nephew that Renner saved from getting hit by the snowplow. He was also responsible for running for help after the accident, and he held his uncle in a certain position to help him to breathe with his punctured lung until an ambulance arrived.
JEREMY RENNER'S NEAR-DEATH EXPERIENCE: LEONARDO DICAPRIO, ORLANDO BLOOM SURVIVED CLOSE CALLS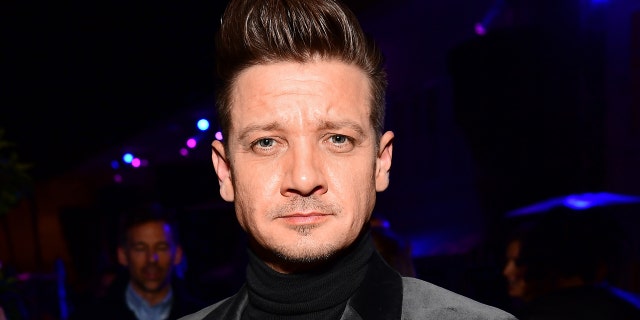 "I didn't see any of this stuff," Renner said, "the blood everywhere, and the thing and the eye, all this stuff, and I had to consider what his perspective was, and then that kept happening with everyone's perspective throughout this entire ordeal."
"It's pretty harrowing to really take the time to consider someone else's perspective."
JEREMY RENNER CREDITS ONE PERSON'S LOVE FOR HELPING HIM HEAL 'INCREDIBLY FAST' FROM SNOWPLOW ACCIDENT
When he mentioned "the eye," he's referring to the fact that during the accident, his eye popped out of its socket. As he mentioned in his earlier interview with Diane Sawyer, "I could see my eye with my other eye."
When Kimmel asked when he started thinking about this kind of thing, Renner confirmed that it was while he was still lying in the snow immediately after the accident, saying, "I mean, I was there for 45 minutes, so I had some time."
At the beginning of the interview, Renner walked onstage with a cane, but danced before he sat down and kicked each of his legs out, showing how much he's recovered in the three months since the accident.
"It was a very, very bad way to start the year," he acknowledged.
While it's been previously mentioned that be broke over 30 bones in the accident, he said last night that he more specifically broke "35 or so," explaining that doctors listed them "from order of what I'm gonna die from or not," and some of the less critical breaks weren't discovered for weeks.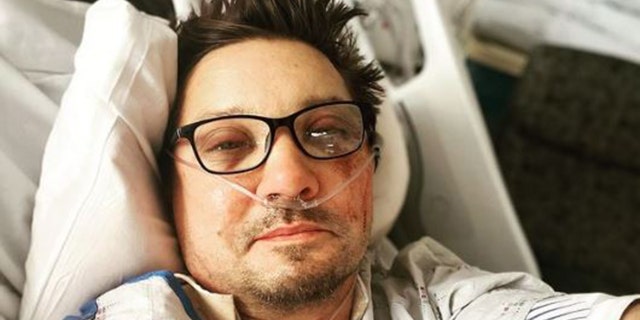 "I got lucky in a lot of ways," he said. "I'm lucky to be here."
He noted, "None of the organs got messed up," and Kimmel pointed out that his liver was pierced by one of his broken rib fragments, but he said it wasn't a big deal. When the talk show host then pointed out that one of his lungs collapsed, he quipped, "Yeah, that's fine, I got another one."
CLICK HERE TO SIGN UP FOR THE ENTERTAINMENT NEWSLETTER
Renner also mentioned that he was friends with some of the first responders that rescued him, and after one of his buddies saved him from suffocating from his punctured lung, he called a mutual friend to say, "Hey, we did the best we could," which the actor clarified meant, "Hey, I'm dead."
"So many people thought I was dead or I was gonna die," he said, "and I'm like, 'No, man.' I kept trying to get out of the hospital as soon I was in it."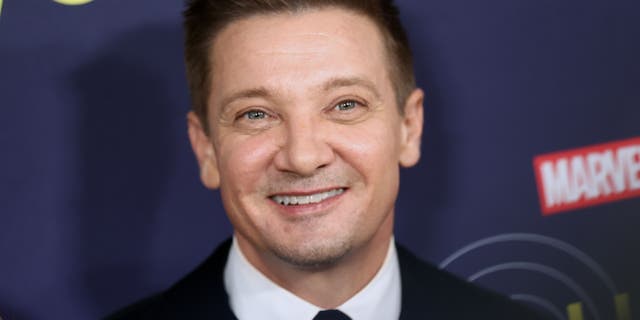 It wasn't until friends started reaching out that he thought his condition might be worse than he'd previously thought.
"Everybody's acting like it's an open casket, and you're living through it," he remembered. "Their reaction was what made me think I really hurt myself. I might not pull out of this."
CLICK HERE TO GET THE FOX NEWS APP
The actor later mentioned that when things settled down a bit after he was originally brought into the hospital, "My first conscious thought was, 'Holy hell, my calendar's freed up for the rest of the year'… I was making so many plans, I was gonna buy a boat, I'm gonna go live in Mexico, because my year was pretty jammed up before I got crushed. But now I'm like, 'No one can mess with me, I'm free.'"