Fox News contributor Marc Thiessen called out the left's reaction to top Democrat Hakeem Jeffries' college paper criticizing Black conservatives. Thiessen told "The Faulkner Focus" Friday that there is a "double standard" for inflammatory rhetoric from the left, while liberals claim that speech from the right is "violence." 
TIM SCOTT CALLS CRITICISM OF BLACK CONSERVATIVES BY HAKEEM JEFFRIES DECADES AGO: 'INFLAMMATORY… DISGUSTING'
MARC THIESSEN: Kids say stupid things in college. … But the problem is the double standard. So if Brett Kavanaugh had said these kinds of things or if Kevin McCarthy had said these kinds of things, no one would be giving them a pass because the left has pioneered this cancel culture on campuses where they say speech is violence and all the rest of it. And so yeah, if speech is violence, he committed violence when he was a college student with his words toward the Jewish community and towards Black conservatives. He should at least be able to say, I repudiate everything I've said. I repudiate the idea that Black conservatives are, I'm not even going to use the words. But he should have to repudiate that and just say, look, I was dumb, I was a kid. I said stupid things. I repudiate that stuff.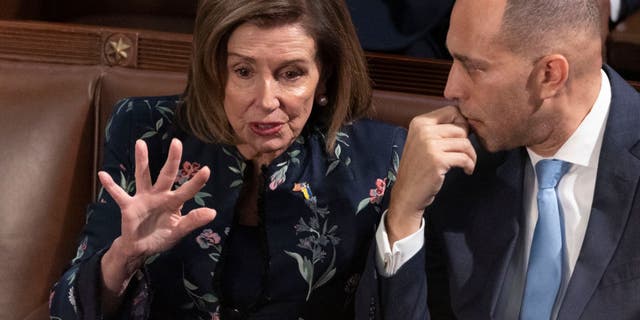 HAKEEM JEFFRIES COMPARED CLARENCE THOMAS, OTHER BLACK CONSERVATIVES TO 'HOUSE NEGROES' IN COLLEGE NEWSPAPER
House Minority Leader Jeffries, D-N.Y., likened Supreme Court Justice Clarence Thomas, former Secretary of State Colin Powell and other prominent Black conservatives to "House Negroes" in a student newspaper editorial about the "rise of the Black conservative."
Jeffries' editorial was published during his time at Binghamton University in upstate New York in February 1992 and was titled "The Black Conservative Phenomenon."
"There has been a recent trend in the Black political arena which I believe threatens to sustain the oppression of the Black masses. The phenomenon I refer to is the rise of the Black conservative," Jeffries wrote in the article, which was first reported on by CNN. 
"The most notable indicator of this is the appointment of Justice Clarence Thomas to the United States Supreme Court."
In the piece, Jeffries also defended antisemitic Nation of Islam leader Louis Farrakhan and Jeffries' uncle, Leonard Jeffries, a Black studies professor who, according to CNN, "eventually lost his job over incendiary comments about Jewish people."
CLICK HERE TO GET THE FOX NEWS APP
Fox News' Kyle Morris contributed to this report.