PolitiFact got piled on for a tweet attempting to add context to Gov. Ron DeSantis', R-Fla., true assertion that Manhattan District Attorney Alvin Bragg downgraded most felonies in his city.
The fact-check, which was published on Saturday, faced public scrutiny after the organization's Twitter account promoted the story on Tuesday. While the tweet acknowledged that DeSantis' claim that over 50% of felonies were downgraded to misdemeanors under Bragg was accurate, it added that the practice was "common."
"Yes, Manhattan District Attorney Alvin Bragg has downgraded felonies as Florida Gov. Ron DeSantis said, but it's a common practice among peer counties," the account tweeted.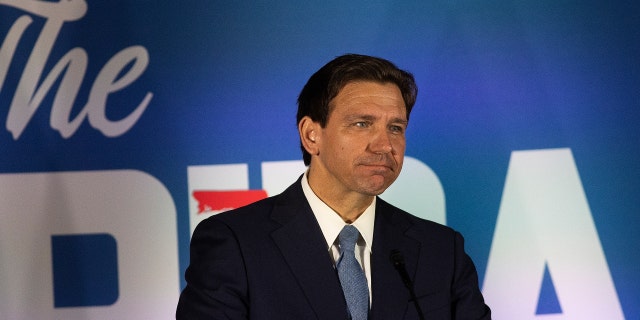 TRUMP INDICTMENT: MEDIA USES 'FACT CHECKS' TO DISTANCE ALVIN BRAGG FROM GEORGE SOROS FUNDING 
DeSantis press secretary Bryan Griffin replied to the tweet, attacking PolitiFact's compulsion to contextualize DeSantis' comment.
"Yes, @GovRonDeSantis was correct. But @PolitiFact feels compelled to note it's simply 'common practice' to refuse to hold criminals accountable in NY," Griffin tweeted.
DeSantis deputy press secretary Jeremy Redfern retweeted Griffin's comment from his account.
Other social media users blasted PolitiFact for begrudgingly admitting that DeSantis' comment was correct.
"'We regret to inform you that Gov. Ron DeSantis of Florida is correct,'" radio host Joe Cunningham wrote sarcastically of PolitiFact's tweet.
"In short, @GovRonDeSantis was right," National Review contributor Pradheep Shanker remarked.
RealClearInvestigations senior writer Mark Hemingway tweeted, "PolitiFact's rulings start to make sense when you realize it is a political disinformation organization for Democrats."
"The 'yeah-but everybody's-doing-it' fact-check…" Fox News contributor Joe Concha joked.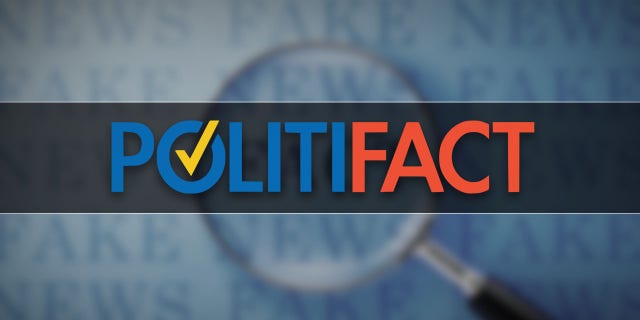 Minnesota House Republicans executive director Andrew Wagner explained, "Most of our public safety problems in Minnesota and nationally would be solved by judges and prosecutors enforcing sentences pursuant to state law. Insane that it's become 'common practice' for half of felonies to be downgraded. #mnleg."
"That's sort of the problem right? New York and those 'peer' cities have rampant crime problems," Media Research Center associate editor Nicholas Fondacaro agreed.
"PolitiHacks," RNC digital strategist Alec Sears tweeted.
DESANTIS 2024? FLORIDA GOVERNOR TO MAKE FIRST PUBLIC APPEARANCE IN SOUTH CAROLINA 
The fact-check, written by Jill Terreri Ramos, rated DeSantis' comment as "True" despite adding that Bragg's practice was "done more often" within the area.
"DeSantis claimed that Bragg has downgraded 'over 50% of the felonies to misdemeanors.' Data from Bragg's website confirms that 52% of felonies that were screened by prosecutors were downgraded to misdemeanors in 2022, the first year Bragg was in office. 2023 data show that so far, 54% of felonies have been downgraded to misdemeanors," Ramos wrote. 
She continued, "Experts said that downgrading charges is a common practice and that it was done more often in three of New York's other boroughs, according to state data from 2021. We rate this claim True."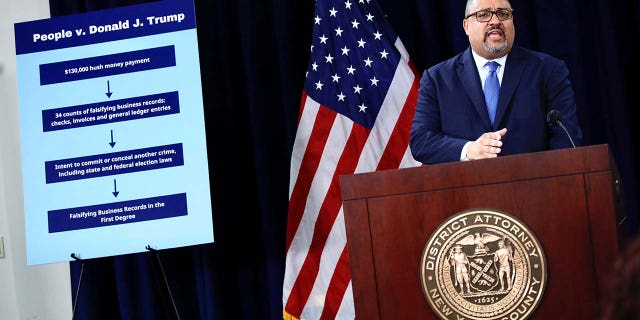 DeSantis has frequently criticized and attacked Bragg since reports broke that he would indict former President Trump.
CLICK HERE TO GET THE FOX NEWS APP
"The Manhattan district attorney is a Soros-funded prosecutor, and so he, like other Soros-funded prosecutors, they weaponize their office to impose a political agenda on society at the expense of the rule of law and public safety," DeSantis said in March.