Sen. Tim Scott will launch a presidential exploratory committee on Wednesday, sources close to the Republican senator from South Carolina confirm to Fox News.
The move by Scott, a rising star in the GOP and the only Black Republican in the Senate, is a traditional step taken in the past by many politicians who ended up running for the White House.
"I've been doing a lot of thinking the past few months. I've been thinking about my faith. I've been thinking about the future of our country. And I've been thinking about the Left's plan to ruin America," Scott wrote in an email to supporters on Tuesday night. "From all this and through self reflection and prayer, I've decided to make a major announcement tomorrow and I want to make sure you hear it first."
The senator's email then promotes that he'll be a guest in the 8am ET hour of Fox News' "Fox and Friends" on Wednesday morning. News of the presidential exploratory committee launch was first reported by the "Post and Courier" newspaper in South Carolina.
TIM SCOTT TAKING NEXT STEPS AS GOP SENATOR MOVES TOWARDS 2024 RUN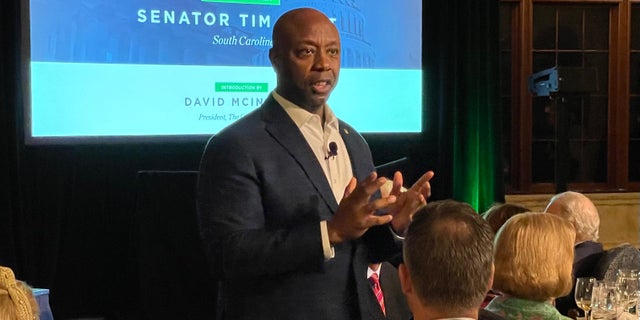 Scott is scheduled on Wednesday to make his second trip in a month to Iowa, the state whose caucuses kick off the GOP presidential nominating calendar. On Thursday, Scott makes his first stop this cycle in New Hampshire, which holds the first primary and second contest overall in the Republican schedule.
The Iowa and New Hampshire stops will be immediately followed by a two-day donor summit in his home state of South Carolina, which votes third in the GOP presidential primary schedule.
2024 WATCH: TIM SCOTT SAY HE'S GETTING 'TREMENDOUS FEEDBACK' SO FAR
Scott, who cruised to re-election in November to what he has said will be his final six-year term in the Senate, is expected to court evangelical Christian voters, who play an outsized role in GOP politics in Iowa and his home state. Former Vice President Mike Pence, who also appears to be moving toward a 2024 campaign, has long been a champion to social conservatives and is also expected to heavily court evangelicals in Iowa and South Carolina.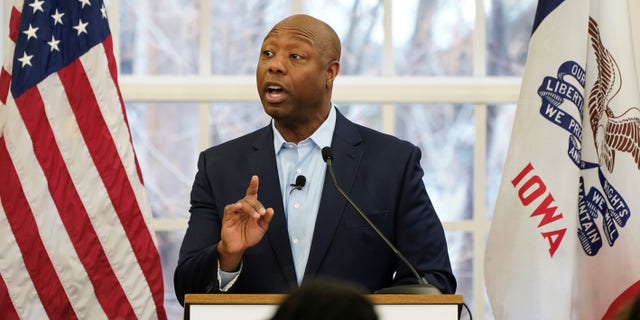 Scott would also face serious competition from Nikki Haley, the former ambassador to the United Nations and former two-term South Carolina governor who launched a 2024 presidential campaign two months ago. Haley, who's spending plenty of time on the campaign trail in Iowa and New Hampshire, and Scott share many of the same allies and donors. 
Former President Trump, who announced his third White House run in November, remains the clear polling front-runner in the GOP nomination race.
CLICK HERE TO GET THE FOX NEWS APP 
Polls indicate that Florida Gov. Ron DeSantis, who remains on the 2024 sidelines but is expected to launch a campaign later this spring or summer, would be Trump's top rival.
While Scott doesn't have the same national standing with conservatives that Trump and DeSantis enjoy, he's known as a ferocious fundraiser who had more than $20 million in his campaign coffers at the beginning of the year, which could be transferred to a presidential campaign. The fundraising war chest could give Scott a head start over some of his potential rivals.