NEWYou can now listen to Fox News articles!
With a new political PAC designed to "fight back" against how Republican-led states are governed, California Governor Gavin Newsom has once again turned a blind eye to the mounting problems in his own state in favor of demonizing red states that are doing just fine without him. His lack of awareness about his own record of failures was on full display as he recently toured Florida, Mississippi, Arkansas, and Alabama to lecture them on California's supposedly superior way of life.
He called Republican leaders "authoritarian threats" while conveniently glossing over his own unilateral power grab during the pandemic. While enacting a three-years long state of emergency, Newsom shut down schools longer than any other state, shut down businesses that forced thousands to permanently close their doors and put many Californians out of work, kept masks on kids despite not wanting to wear his own, and dictated how many households can gather together at once – a rule he famously ignored.
Newsom lambasts red state leaders for so-called bans while conveniently forgetting the many essentials he and California Democrats will no longer allow. He failed to mention that state-funded travel is banned to 23 states, including the four he visited on his tour. He didn't disclose that the sale of gas-powered cars will be banned in 2035. And he certainly didn't discuss that even skittles may not be safe from a ban in California.
If Newsom really wants to warn against authoritarian leadership, there's no better place to start than with himself.
REPUBLICANS BLAST GAVIN NEWSOM'S PLAN TO MANDATE ELECTRIC TRUCKS
Newsom also tried to present himself as a guiding light on issues like education while never mentioning the dire straits schools in his home state are currently in. Students needlessly suffered as a result of Newsom's extended school shutdowns. Recent test scores showed two thirds or more of California students aren't at grade level in math and science while California ranks dead last in literacy. Meanwhile, public school enrollment continues to decline as families relocate, many to the very states Newsom is busy lecturing.
On his red state tour, Newsom failed to bring up critical issues from his home state like homelessness. That's undoubtedly because on his watch California's homeless crisis has exploded, despite allocating more than $20 billion to address it. Today, California holds more than 30 percent of the nation's homeless population, including a staggering 50 percent of the nation's unsheltered population.
He didn't bring up California's struggling economy and its unemployment rate that ranks among the highest in the nation. The four states he visited enjoy much lower unemployment rates, with Florida and Alabama even landing near the lowest of any state. Nor did he mention how his poor policies and reckless spending managed to drop California from a $100 billion surplus to a nearly $30 billion deficit in just one year.
Gas prices certainly weren't addressed, seeing as California continuously has the highest prices in the nation, towering high above the national average and nearing $5 per gallon. Not surprisingly, the states he visited have among the nation's lowest prices with Mississippi and Arkansas boasting the nation's least expensive gas. Instead of finding commonsense solutions to lower gas prices, like suspending California's sky high gas tax, Newsom recently championed a new gas tax that will likely lead to even higher prices hitting already cash-strapped Californians.
CLICK HERE TO GET THE OPINION NEWSLETTER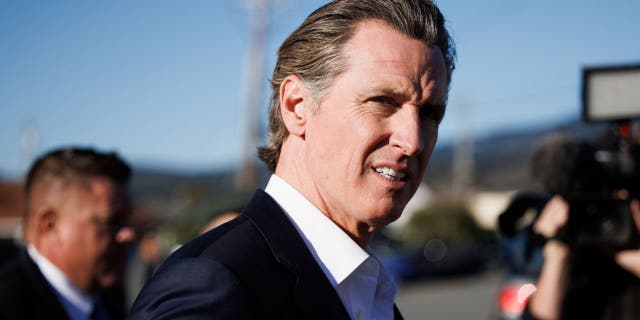 CLICK HERE TO GET THE FOX NEWS APP
At the end of the day, Newsom didn't need to discuss his many failures during his tour because many red state residents know firsthand what Californians have to live through, as many are former Californians themselves. Over the last two years, 700,000 Californians have fled the state, a larger exodus than any other state in the nation, with many citing California's housing affordability crisis as a reason for leaving.
So where are they going? More economically welcoming red states like Florida and Texas gained more new residents than anywhere else. It's not by accident that California lost a Congressional seat for the first time in state history while Florida and Texas both picked up seats.
California is not the moral compass for the rest of the nation that Gavin Newsom pretends it is. He can exhaust himself lecturing red states all he wants, but the only lesson he can credibly impart to them is how to drive their states to the top of all the wrong lists. Whether this is his pathetic kickoff to a soon-to-be failed presidential race or he's simply trying to distract himself from the many problems he's worsened back home, he should really ask himself if he's the best person to lecture anyone on how to effectively lead. After all, people who live in glass houses shouldn't throw stones.
CLICK HERE TO READ MORE FROM JESSICA PATTERSON